The Heads of the three Armies, in the round table "Vision of the future of the Armed Forces"
Madrid, November 4th, 2021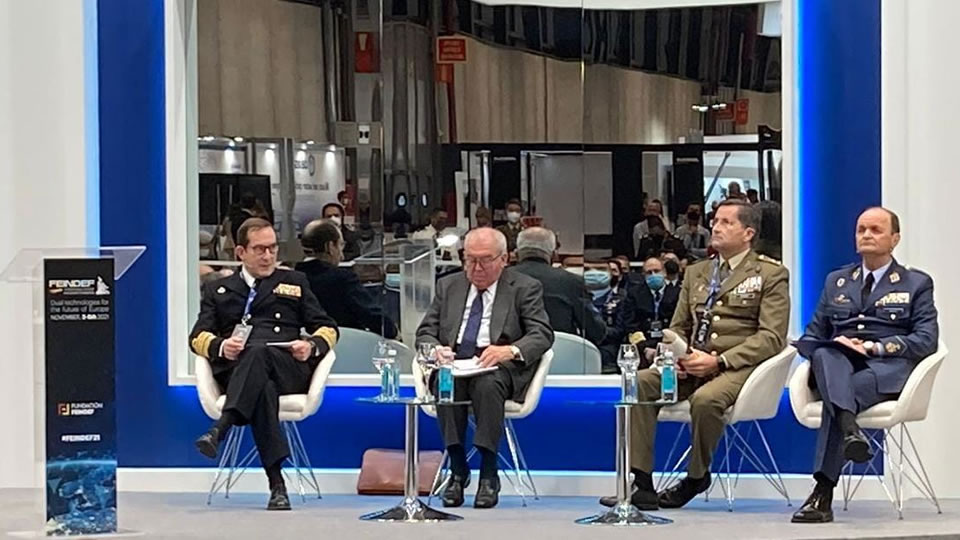 In the round table "Vision of the future of the Armed Forces", moderated by the former defense minister, Eduardo Serra, the Heads of the 3 Armies have participated: Chief, Amador Enseñat and Bercea; JEMA, Javier Salto Martinez-Avial and AJEMA Antonio Martorell Lacave.
The three have agreed on the need for digital transformation and collaboration between industry and armies.
The AJEMA has started its exhibition by highlighting the importance of FEINDEF, to support the national defense industry. Faced with a volatile, uncertain, complex and ambiguous future maritime environment, which will be joined by space and cyberspace, the Navy requires more integrated, more interconnected, more sustainable and more decisive forces. It has to adapt and highlights the digital transformation with Artificial Intelligence and Big Data as the main instruments.
The digital twin of F110 is the center of this qualitative leap, where all operations will have their replica, as well as unmanned vehicles that avoid endangering the crews.
He concluded his speech by assuring that many industries that will have to be competitive will participate in the ship of the future and has made mention of European projects such as the EPC as a future option to replace corvettes and the 4E to develop future technologies for platforms.
The Chief of the Army Staff has explained that the Army has to adapt to the new environment, with the incorporation of new technologies, in order to have joint and interoperable structures with other State bodies. The ET is developing the Force 35 Project with this philosophy, to have a Command and Control System that integrates all systems, interoperable and that incorporates new technologies such as robotization and cyber defense. The 8x8 Dragon will be the skeleton of this project.
The JEMA has raised the lack of resources of the Air Force and the need to modernize some air units in order to guarantee airspace control and citizen well-being and to be able to undertake international commitments. Starting from the fact that it is the Army most influenced by technology, it advocates full collaboration with the aerospace industry for the sake of continuous evolution. He concludes his presentation that investing in the aerospace sector is profitable and with an important return in the industry and its capabilities.