"Navantia, Driving Progress"
Madrid, November 4th, 2021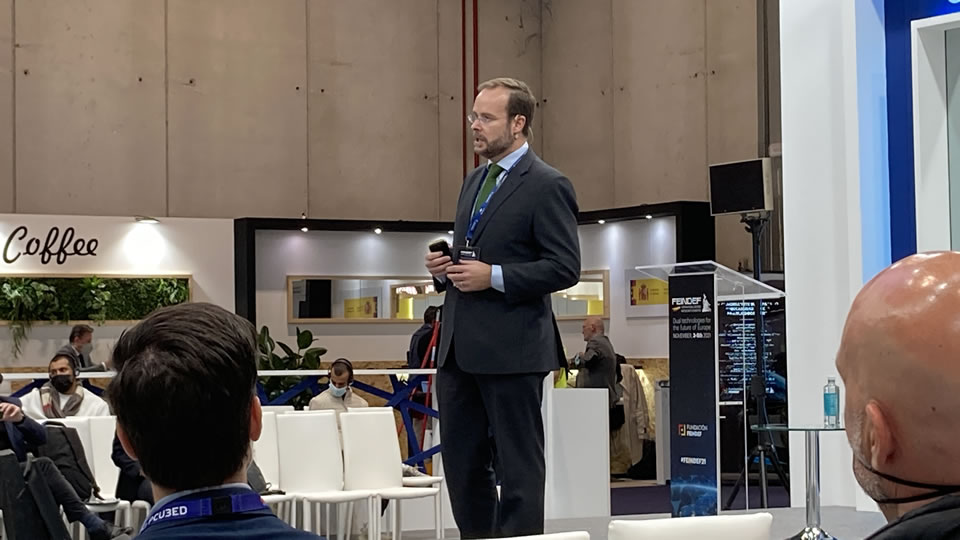 Donato Martínez, Director of Technology and Digital Transformation and Director of Systems and Services, has participated in FEINDEF in the conference "Navantia, Driving Progress".
Donato began by explaining how Navantia, throughout its history, has evolved from being a design purchasing company to third countries to being an exporter of knowledge, enabling the return on the initial investment.
That has been the case of the AOR logistics ships, he explained, of the patrol boats, of the amphibious ships and aircraft carriers - where from an investment of 475 million euros, contracts worth 1,300 million were generated - of the frigates and it is entrusted in that it also happens with submarines.
Next, he has shown data on the socio-economic impact of Navantia in the areas of influence, where the company is the main industrial, knowledge and quality employment tractor.
All of this personalized in the construction programs in force: frigates F-110 and submarine S-80, which, in addition to the impact on GDP and generation of quality jobs, are accelerators of digital transformation, using sustainability and energy transformation as a lever.
In these programs, Navantia is using dual application technologies (from the civil world), such as the digital twin, simulation and integrated services systems, all within the 5.0 ecosystem, with the aim of being more digital, more sustainable and more viable.
He has highlighted the 14 technologies used: new materials, additive manufacturing, Robotic Process Automation, industrial robotics, drones, cloud, modeling and simulation, virtual reality / augmented reality, internet of things, autonomous vehicles, artificial intelligence, blockchain, big data and 5G. And finally, to make it possible, the creation of the different centers of excellence, with the aim of maximizing operational efficiency: Ferrol (digital twin), Cartagena (and smart services), Cádiz (cybersecurity, artificial intelligence and additive manufacturing) and Madrid (smart ships).